English Cream Golden Retriever Puppies
in Wisconsin
Contact 715-591-8956
or email
4shaws@charter.net
4-16-2021 Sage had 8 good sized puppies along with a very small puppy. All born Thurday afternoon. I will be contacting families this weekend and into next week.
Alicia had to have a C-section last night 4-6. 11 puppies 9 boys and 2 girls. All are doing good. I will contact families on my list this weekend.
Alicia's puppies born 4-6
Ultrasound confirms Sage's pregnacy with Charm. Due mid April.
Grace is bred with Emmett.
Due end of April.
12-27-2021 Hannah's pups. 7 months old Emma & Echo, future hopefulls
12-27-2021 Emma & Echo
Adoptive families must be
knowledgeable to the needs
of a golden Retriever. They need
to be considered part of your family
along with daily exercise,meaning taking for daily walks rain or shine. Puppy will also need structure in your home. A puppy without structure, love and exercise will become a dog with bad behavior.
Puppy obedience classes are greatly encouraged.
Puppies will be checked by a vet at 3 days,
They will have dew claws removed, 1st shots.
And have gone through a deworming program.
Puppies will be well socialized and loved.
They will have a good start at potty training.
They will have a 2 year

Health Guarantee

, along with food for a week.
All puppies are sold with limited registration
(Without breeding rights).
For more information call 715-591-8956
Sorry, we do not ship puppies as we feel a face to face meeting is important for the placement of a puppy.
Licensed and inspected by Wisconsin Department of Agriculture, Trade and Consumer Protection
License # 494715
Full English Cream Golden Retriever
AKC/OFA Elbows normal & hips Excellent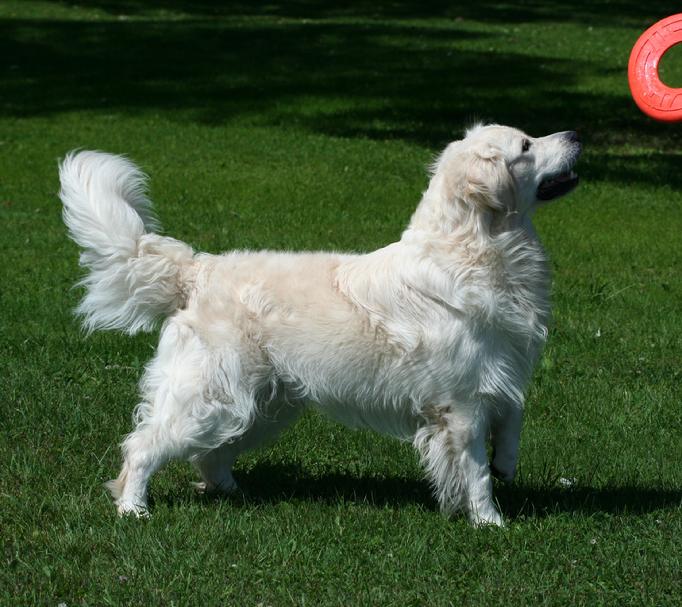 8/28/2019 Emmett will be joining our breeding program.
Charm
English Cream
Golden Retrievers
5/15/2018 Grandsons Cameron & Finley
Grandsons Cameron & Finley
Grandsons Cameron & Finley
10/20/2017 Elodie, Hannah & puppies
Granddaughter Elodie & Charm 6/29/2017
Vincent & Estelle 10/16/2016
Jake, Becca, Cameron & Finley Hannah's puppies 10/16/2016
Josh 10/16/2016
Chance 7/10/2016
Dave & Boys
Jake & Cameron
Granddaughter Penny
Happy Easter! Granddaughter Elodie/Grace-Charm puppies
Joan w/Gracie's babies
Ivy getting ready to go to new home with grandson Cameron.
Granddaughter Elodie
Grandson Cameron 8/16/2015
English Cream Golden Retriever Puppies in Marshfield Wi.
Penny with Peggy puppies. All puppies have gone to good homes.
Granddaughter Elodie 2/7/2015
Grandson Cameron
English Cream/American Golden Retriever Puppies
in Wisconsin.
Chance & Hannah
Hannah & Chance
Peggy waiting for the birds to return to their nest.
| | |
| --- | --- |
| Grace daughter of Chance/Peggy | Grace- loves to retrieve |


Thank you to the many
families who have made
our puppies part of your
family.


English Cream Golden Retriever Puppies
in Wisconsin
Contact 715-591-8956
or email
4shaws@charter.net
Golden retriever puppies for sale in wisconsin.
For English Cream Golden Retriever puppy information
contact Joan @
4shaws@charter.net
or 715-591-8956
Marshfield, Wi 54449
Web Hosting powered by Network Solutions®