4-20-2021 Day 58
4-20-2021 Grace loves Dr. Pohl
4-26-2021 Grace had 2 boys and 4 girls starting after midnight last night.
4-27-2021 dark green and Blue are boys, rest are girls
4-27-2021
4-30-2021 All are doing great
5-2-2021
5-2-2021 grand daughter Penny with pups
5-4-2021 no much movement eat and sleep...
5-6-2021 Little one is second from the left. These pups are same size as him. Born 1 week behind.
5-7-2021 All is great!
5-9-2019 The small one (little man) is the white puppy in upper right side.
5-9-2021
5-12-2021 Planning for the escape.
5-12-2021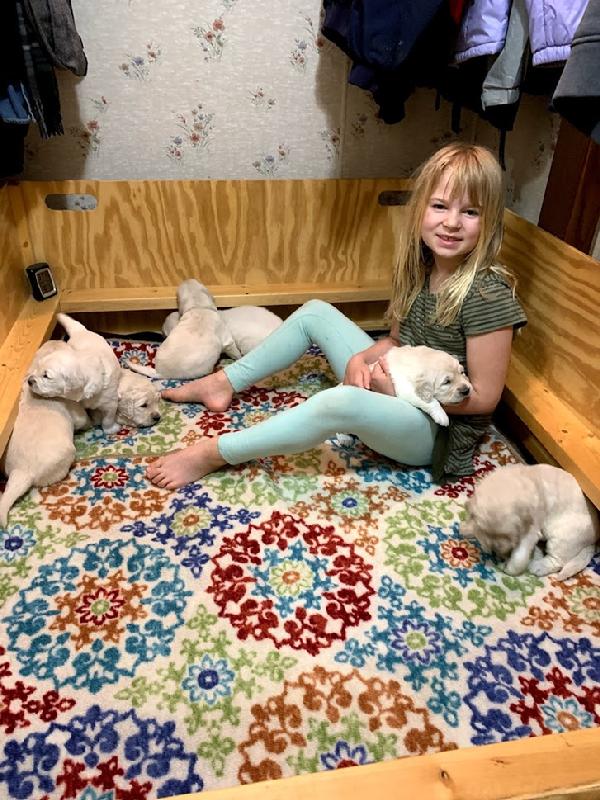 5-15-2021 Granddaughter Elodie home for the weekend.
5-15-2021 Elodie- I am going to have to check her bags for puppies when she goes home....
5-16-2021 My little man. I take him out on the deck each day to walk. He is behind in development but slowly catching up.
5-16-2021 Little man actually stood to eat out of the bowl. Previously I had to tip the bowl so he could eat while he laid. It's the little things in life....
5-16-2021 Guess what they are thinking about?
For English Cream Golden Retriever puppy information
contact Joan @
4shaws@charter.net
or 715-591-8956
Marshfield, Wi 54449
Web Hosting powered by Network Solutions®