English Cream Golden Retriever Puppies in Marshfield Wi.
Augie's new home
| | |
| --- | --- |
| Summer fun | |
I love my family!
Brett's new home
11-2015
Jackie & Biscuit
I am loved....
Rachael & Biscuit
Ivy's new home
11-2015
I'm home...
Jax & Casie
Jax 1st Christmas
Love is Christmas..
Nova's 1st day home
1st night home.
11-2015
Hayden
Hayden 9-2015
Full English Cream litter born to
Puppies have arrived 7/10/2015
7/12/2015 we now have colored collars because we are weighed daily to make sure we are all gaining at the same rate.
Love this picture!
7/15/2015 We had dewclaws removed on Monday. We are much better today. No more whimpering.
Bath time..........
7/20/2015 We have all doubled our birth weight. Our day consist of eating and sleeping...
7/22/2015
Puppy pile
We still spend most of the time eating and sleeping, but when mom walks into the room we can smell her and we are on the search...
Full tummies! 7/22/2015
7/25/2015
One more week and we are planning our escape.
Hard to believe that puppies were just over a lb 2 weeks ago. Most are over 3 lbs now..
7-28-2015 we eat, sleep and now a little play
7-28-2015
7-28-2015
A few moments alone......
Back to work...
7-30-2015
7/31 1st soft meal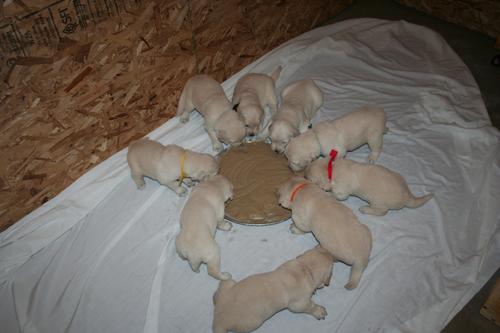 8/1 we are all getting the hang of this.
8/2
8-9-2015 3 of the 6 girls
8-9-2015 rest of the 6 girls
8-9-2015 The Boys
Our whelping box is out and we have beeen legally free for 5 days. We are doing great with using the bedding for the bathroom. The bedding area will get smaller as all of us get better with timing:)
We sleep infront of the door as we do not want to miss a thing.
Mom still comes in to nurse, but we are doing so good on dog food that we no longer depend on her for all of our food.
8/16/2015
Jake, Becca & Cameron
Cameron 8/16/2015
8/16/2015
8/16/2015
8/17/2015
8/17/2015
8/26/2015
No fear
Adoptive families must be
knowledgeable to the needs
of a golden Retriever. They need
to be considered part of your family
along with daily exercise, patience and love.
Puppy obedience classes are encouraged
Puppies will be checked by a vet at 3 days,
They will have dew claws removed, 1st shots.
And have gone through a deworming program.
Puppies will be well socialized and loved.
They will have a good start at potty training.
They will have a

Health Guarantee

, DVD of pictures while they were in our care along with food and toy.
All puppies are sold with limited registration
(Without breeding rights).
For more information call 715-591-8956
Sorry, we do not ship puppies as we feel a face to face meeting is important for the placement of a puppy.
Chance & Hannah
Hannah & Chance
For English Cream Golden Retriever puppy information
contact Joan @
4shaws@charter.net
or 715-591-8956
Marshfield, Wi 54449
Web Hosting powered by Network Solutions®